FutureOn provides software solutions for energy operators. Its Software-as-a-Service platform helps operators analyze data in real-time. It also provides 3D visualization and collaboration tools. Energy companies can use the platform to make smart decisions about their operations. This article will explore the benefits of using FutureOn's solutions. It will help you decide whether FutureOn is right for you. You can also download its free trial version and try it out to decide if it's right for you.
FieldTwin
Powered by the cloud, FutureOn's FieldTwin platform helps operators create and manage digital copies of their physical field assets. This application connects disparate data to create accurate visual representations for offshore projects and helps optimize the entire lifecycle of field development projects. The company has a 15-year history of developing 3D visual engineering solutions for the oil and gas industry. Its software is a cloud-based, web-based solution that helps oil and gas companies optimize their operations and lower their costs.
FieldTwin platform unifies multiple workflow & engineering applications
The future of digital asset management is a cloud-based platform enabling companies to build, deploy, and manage their field assets through a single platform. The FutureOn FieldTwin platform unifies multiple workflow and engineering applications, which helps companies make faster decisions and minimize project risks. In addition, FieldTwin is available on any device that has an internet connection. Its cloud-based, API-driven approach makes it easy to implement and maintain.
In addition to allowing organizations to store and use all of their data from different sources, the FieldTwin platform allows users to create and access a centralized database that stores all of their project data. The FieldTwin platform also uses IoT sensor data to track equipment and vessels in real-time. It stores timely updates on various tasks assigned to engineers. Its cloud-based system makes it easy to share data with other users.
FieldTwin user interface
The company plans to launch FieldTwin Design this year, with the first major milestones expected to be achieved this year. It will allow users to design and export their own hydraulic network and integrate it into their production planning tools. The digital twin will include the architecture of the well and other fields, as well as the company's metadata. The tool is also expected to improve the user interface. It will also support API linking into simulation tools.
In addition to the software, FieldTwin Collaborate is an optional application. The company is developing this collaborative workflow application that can be integrated with the FieldTwin software. This solution enables multiple stakeholders to collaborate on the same project, while maximizing the value and performance of the assets. In fact, the Offshore Renewable Energy Catapult has launched a taskforce to develop a digital and data strategy for the industry. The company's FieldTwin Collaborate is a prime example of this digital innovation.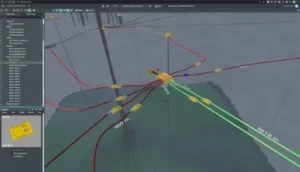 FieldTwin Design
The digital twin is an extension of the physical reality, and the future of oil and gas will be fueled by this data. With its digital twin, companies can easily integrate the new technology with existing infrastructure to ensure safety, optimize drilling, and improve operational efficiency. A digital field twin can also speed up decarbonisation processes and unlock billions of dollars in savings. The company's FieldTwin software digitizes oil and gas field installation and production processes, providing the teams with the right information to maximize their productivity. With its innovative design, this software allows users to monitor and predict equipment maintenance.
RDL Protocol
With the RDL protocol, data can be exchanged in an easy and secure manner. Its metadata can support any standard and be fully configured. This allows developers to easily adapt the software to meet the needs of their clients. The RDL protocol is a set of international standards for the oil and gas industry. FieldTwin is committed to supporting this protocol. It will be incorporated in the next iteration of FieldTwin.
Reduce Costs & Maintain Standards
FutureOn has developed a training programme for its new FieldTwin application. Its online training module, FieldTwin Design Fundamentals, provides the basic competencies to become a successful FieldTwin user. The company offers facilitated training sessions for their clients, but wanted an alternative solution to reduce costs and maintain standards. FutureOn sought to develop an e-learning solution that would address their requirements and allow them to expand training to non-customers.
Multiple Feature Software
The FutureOn FieldTwin Design software is a comprehensive design tool. Its powerful features allow users to visualize complex subsea developments and handle multiple variables simultaneously. It can be used to import data from bathymetry, well trajectories, reservoirs, pipelines, and other equipment. This powerful tool will bring engineering teams together and provide real-time visibility of their projects. You can see your project and how it will look before it's even built.
Visit for Reading More Interesting News: