If we have to pick the most popular apps, it's likely that Facebook, Instagram, WhatsApp, and TikTok would make the list. But what other apps could get that title? And if they do, who should they be? Several different apps are competing with each other for the honor. What will become the most popular app in the world? Here are a few predictions. If you'd like to be among them, download the apps below!
TikTok
Among social media apps, TikTok has become the most popular one, surpassing Instagram eight times. The Chinese video sharing app also saw a growth of 11% in Q1 of 2022. In June 2020, India banned 59 Chinese apps, including TikTok. According to Sensor Tower, no other app has more downloads in the first quarter of 2022 than TikTok. However, the Chinese app remains dominant due to its unique algorithms, relevant trends and diverse community. In addition, the company recently added interactive add-ons for in-feed ads, tested a private dislike button for comments, and even launched its own AR development platform.
According to Sensor Tower, the app has been downloaded over two billion times. The company predicts that this growth will continue through 2022. Despite the controversy over TikTok, it is still growing rapidly. In September 2021, the app had 86 million monthly active users and a billion-plus users. According to the same study, YouTube and Facebook took eight years to reach one billion users. In 2022, TikTok is expected to have 1.5 billion users.
Facebook
According to a study from Statista, Facebook apps is used by nearly two billion people each day. This is a substantial number, considering that the average user checks the site more than 13 times a day. While the primary purposes of Facebook users vary, the majority of Facebook users simply use the site to keep in touch with friends. In fact, more than two billion people in the world have Facebook accounts, which means that Facebook is the most widely used apps in the world.
The growth of the social network is astounding, as its user base is continuously rising. Its popularity has exploded. Facebook is already the leading social network and has an unrestricted mobile website. In fact, it is estimated that 98.3 percent of Facebook users access it via mobile devices, while only 1.7 percent log on their desktops. The mobile version of Facebook ranks among the most popular apps in the world, and Facebook Messenger is among the top 10 most downloaded apps on the Google Play Store.
Facebook is currently testing a new feature called Live Audio Rooms. These rooms enable people to chat with friends and talk about anything that interests them. It is available in Messenger and Groups, and it is yet to be decided if it will stay separate. However, Facebook does recognize that private Groups are not the best place to build a community, so it's bringing Audio Groups to famous people. These people can now host conversations with their fans.
Instagram
According to a recent survey by the Pew Research Center, Instagram is now used by 11% of American parents. The app is free to use, but the audience is made up of both males and females. According to the survey, the most popular countries for Instagram users are Brazil, India, Indonesia, and Russia. Although the app is widely used, it skews more toward male users. Despite this, Instagram is a great avenue for ecommerce and sales.
The number of Instagram users is also rising. The fastest-growing demographic is 55 to 64-year-old men. This group is often associated with irony and sarcasm, so it is no surprise that younger people are turning to it for social interaction and show off. However, the age demographics of Instagram users can give us a glimpse of the app's growth in the next few years. In 2022, the app is expected to have the largest user base among Gen-Xers and Millennials.
In terms of mobile users, Instagram has become the most popular social networking app globally, with over a billion active users. The app has also been banned in India, but it is still one of the top five most downloaded apps worldwide. Facebook and Instagram are the second and third-most popular social networking sites in the United States, respectively. And if we want to know how popular these apps are, the numbers say it all.
WhatsApp
In the past few years, WhatsApp has been attracting more users worldwide. The app's number has reached over 2 billion users, and it is growing by half a billion every year. What's amazing about this app is that it allows you to communicate with virtually anyone and keep up with their lives at all times. If you want to join a group, you can simply click on the links below and join. WhatsApp groups are categorized into various topics, making it easy to find one that interests you.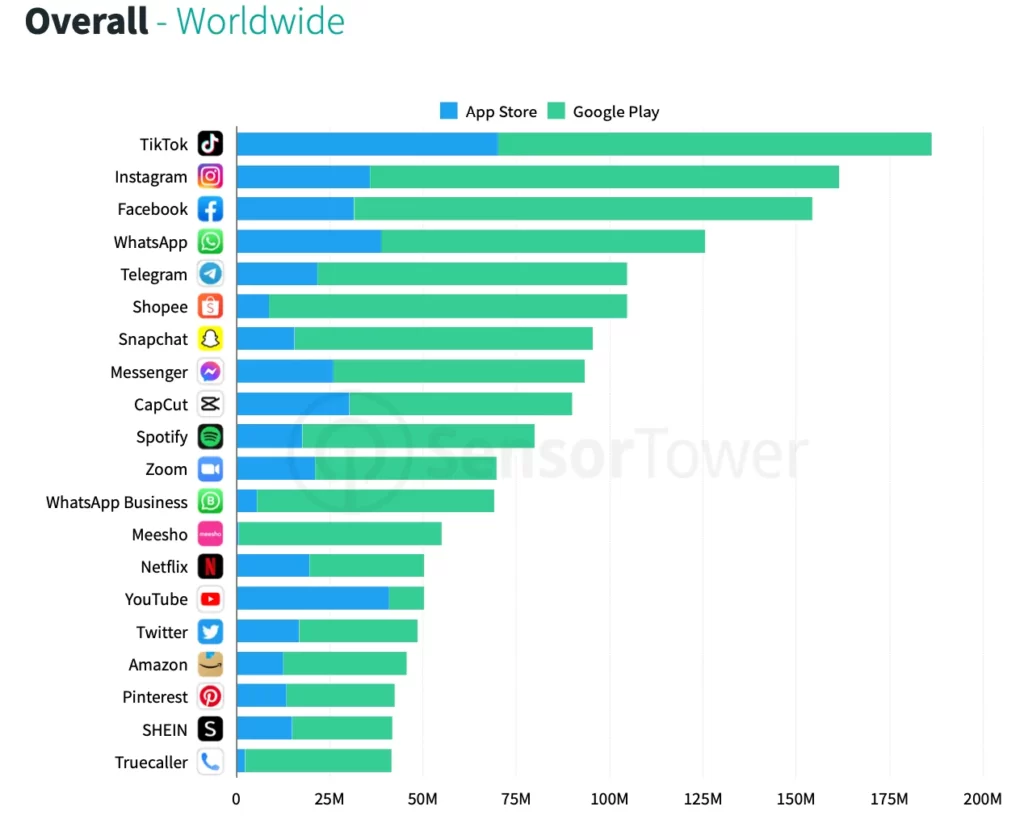 In the United States, WhatsApp is the most popular messaging app for people aged 26 to 35. It accounts for about 27% of all internet users. In India, the number of people using WhatsApp has doubled from last year. In Russia, it has a growth rate of 17%. WhatsApp is currently available in over 5 billion downloads on the Google Play store. In August of this year, WhatsApp Messenger was downloaded more than 39 million times. It was the fourth most downloaded app in the world as of September 2021.
In the US, one in every four adults uses WhatsApp. Among those people, 19% of users are women and 20% are men. Another 19% are millennials, and twenty percent are between the ages of 25 to 35. Interestingly enough, WhatsApp is widely used by both sexes and by all age groups in the US. WhatsApp is also a popular choice for businessmen and people working in high-tech companies.
Telegram
There is no doubt that Telegram is an innovative application. The social networking app has over 15 billion daily users. The majority of its users are in Asia, followed by Europe and Latin America. The Middle East and North Africa are also home to a significant portion of Telegram users. The app has many popular sub-sections, including Telegram Tips and Bollywood HD Movies, which have over four million followers.
As the popularity of Telegram continues to increase, its developers have redeveloped the sticker panel to give users access to thousands of different stickers. In April 2020, the Telegram team launched an update to the stickers panel, allowing users to browse thousands of unique stickers. Users can now customize stickers and send them to any chat. In addition to the stickers, Telegram premium users will have access to new tools to organize their chat lists.
With its innovative features, Telegram has been able to compete with other top messaging apps. It has the largest share of the global messaging market by 2021, with WhatsApp claiming the title of the most popular app in the world in 2022. In addition to its advanced security features, Telegram has a variety of other features that make it unique. It supports multi-device usage, and users can even send and receive large files without compromising the quality of the message.
Zoom
Zoom is a popular video conferencing tool used by businesses of all sizes. Users love Zoom because it's easy to use and offers crystal-clear video and audio quality. It is also completely free. Here are four reasons Zoom will be the most popular app in the world in 2022. Let's explore each of them one by one. The first is its ease of use. Users can use Zoom on any device that has an internet connection.
Its popularity has spread beyond personal conversations to a business setting. More than 93 percent of Zoom users are business customers. Only six percent of users got their first impression from the search engine. Zoom's popularity has been increasing steadily and in 2020, it will have over 300 million daily active users. The company is already valued at $1 billion and has received several investments, including a $100 million investment from Sequoia Capital.
According to a recent Zoom survey, almost seventy percent of users meet on Zoom. In addition, they use the app to conduct business meetings or social activities. The results are surprising. Some Zoom users claim that Zoom meetings are as professional as they claim, but in reality, they're not. Zoom is much more relaxed than a traditional meeting, and its convenience makes it easy to conduct business from the comfort of your home.
Snapchat
Snapchat's growth is fueled by original content, which draws new users and boosts in-app engagement. For example, the Ryan Reynolds series "Ryan Doesn't Know" has over 20 million monthly active users. The app's growth in Western Europe is projected to grow at 6.8% per year, reaching 76.2 million monthly active users by 2022 – which will account for over 22% of the region's internet users. However, the growth rate will vary based on the three largest economies in the region.
In addition to augmented reality, Snapchat also offers unique ad opportunities. Its ads are focused on augmented reality. Snapchat is rapidly adding social commerce features, including bidding tools and ads manager platforms. However, these tools are still in their infancy compared to those of other platforms, such as Facebook and Twitter. In May of 2022, Snapchat released a suite of tools for businesses to streamline the creation and discovery of AR assets. In addition, its AR image processing feature encourages users to interact with brands through the medium.
While this is a big deal for the app, it is worth noting that the company faces some expenses. The company has significant cloud server and payroll expenses. As a result, Snapchat has contracts worth $2 billion with Google and requires $400 million per year. Both contracts are valid through 2022. The company's revenue grew 52% in the third quarter of 2020. Despite the high costs, the company's users are highly satisfied.
Get more info:
How Long Does It Take to Build a Website on Average?
How to Conserve Energy at Home
8 Incredible Health Benefits of Running
4 Quick Tips for Increasing Business Efficiency
7 Tips for Choosing the Best Solar Installation Company in Fort Worth
The Latest Brand Marketing Strategies
What the Drug Detox Process Actually Looks Like in Practice
Your Guide to Remote Collaboration Tools to Help Your Team Work Smarter