Cell phones have become a vital lifeline for people with dementia. Not only do they improve the quality of life, but they can also be used with hearing aids. This article will discuss the pros and cons of cell phones for dementia patients. You can also learn about the benefits of hearing aid compatibility. And if you're looking for a lifeline for your loved one with dementia, consider cell phones. They will ensure that they are well-connected, and can provide reliable communication.
Cell phones are a lifeline for people with dementia Patients
The ability to connect with others through a cell phone is an important part of aging-in-place care. Fortunately, there are several cell phones specifically designed for people with dementia and Alzheimer's. Consumer Cellular, for instance, offers phones with large buttons, streamlined designs, and enhanced safety features. Some of these phones even have fall detection and an SOS button. In addition to the regular call options, the phones also have medical alert and voice command features to help the caregiver contact the person in need.
One cell phone that is designed specifically for seniors with dementia is the Easyfone Prime-A4 with GPS Localization. The Easyfone has a camera and can take photos and watch movies. A GPS localization feature allows the phone to contact family and emergency contacts. The easyfone can also be used to check in on the elderly person. By having a GPS location of the phone, a caregiver can quickly find them.
While cell phones can be challenging for a person with dementia, they are a lifeline for many caregivers. Many have trouble operating cell phones, but they rely on them for a variety of tasks. Those with early memory loss, for example, rely on cell phones to keep track of appointments and stay organized. For caregivers, cell phones are an indispensable tool, as they can easily use apps to track loved ones with dementia.
When selecting a cell phone for a senior with dementia, keep in mind that there are different types of dementia. Advanced phones often have complicated functions, which may be difficult for the elderly with memory problems. Therefore, consider buying a simple phone for the senior. Choosing a simpler model may help slow down the progression of dementia. The best phone for your loved one with dementia should also be easy to operate.
Dementia Patients: They provide reliable communication
For caregivers and family members, the most important thing to remember when communicating with a person suffering from dementia is to approach them with compassion and empathy. As much as possible, limit the amount of distractions and address them by name. Also, when talking to a person with dementia, remember to lower your voice and use simple, familiar words. Moreover, keep in mind that they are more likely to respond well if you acknowledge them, avoid correcting them, and use nonverbal cues to redirect their attention.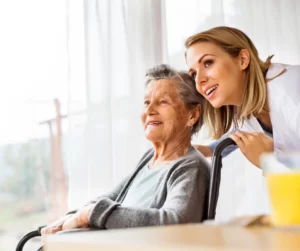 The latest technology in AAC devices is based on the concept of intense interaction. The device enables people with severe disabilities to interact with people who have speech problems. This technique has a great potential in improving communication between people with dementia and their caretakers. Researchers have found that people with advanced stages of dementia still possess recognizable communication skills and still want to communicate. They help caretakers better understand the person and their needs.
Dementia patients may communicate with subtle movements. When addressing an individual with dementia, they may use hand gestures to indicate a greeting or an invitation to others. They may also use their name to identify and invite others. These methods help patients feel more secure and less frustrated. The caretakers should also pay attention to the person's nonverbal communication, such as facial expressions or gestures. These techniques help caregivers make the elderly feel more comfortable in their surroundings.
Often, dementia patients struggle to communicate and may need to initiate conversations to have a meaningful conversation. The Alzheimer's Society offers information on dementia and how to talk to someone with the disorder. While talking is a primary means of communication, other techniques such as body language, facial expressions, and physical contact can be used to convey meaning and emotions. This can be a very helpful method in helping the patient express themselves and maintain relationships.
They improve quality of life
While the effects of dementia can be profound, there are still ways to help your loved one enjoy their life. The right kind of care and living environment can significantly improve the quality of a person's life, while decreasing the stress of caregivers. There are many ways to improve the quality of life of a dementia patient, including reducing their stress and providing meaningful activities. The following are just a few ideas to consider.
One intervention that has shown significant benefits is the use of a companion animal in the home. It has been shown to improve quality of life and mood in people with dementia. A recent Alzheimer's Association International Conference in London featured four trials that showed improvements in residents' mood and ability to care for themselves. Researchers are now looking at these simple, inexpensive interventions and how they may affect the quality of life of patients with dementia. These programs will be crucial for the future of dementia care.
The main goal of any treatment program is to improve the quality of life of the person with dementia. The quality of life of the patient is often hard to determine because of the difficulty of communicating with the patient. This can lead to arguments about the best care for the individual. As such, it's important to have objective data about the quality of life of dementia patients. The study authors are happy to provide datasets for further research.
Occupational therapy (OT) and caregiver education interventions have been proven to enhance QOL for dementia patients. They are proven effective in reducing depression, improving activity-based independence and decreasing caregiver distress. Community-based therapists deliver behavioral interventions that improve QOL in patients with dementia. The interventions can be effective for individuals of all cognitive levels and increase caregivers' sense of competence. The participants were randomly assigned by cognitive level to receive the treatment. A blinded interviewer then assessed them at six and twelve weeks. The OT group performed better than those on the waitlist. Their caregivers also reported feeling more competent and confident in their roles.
They are compatible with hearing aids
While the link between hearing loss and mental health issues has long been studied, most studies have come up with mixed results. However, the most recent evidence suggests a concrete relationship between these two factors. In a study conducted by the University of Manchester, researchers found that the use of hearing aids delays the onset of dementia by as much as 75 percent. The study only included people who billed their health insurance for their hearing aids.
The impact of hearing loss on a loved one's day-to-day interaction is immense, and caregivers may feel enormous frustration. But there are ways to help improve communication while caring for a dementia patient using hearing aids. Listed below are some tips for effective communication strategies. They are designed to help both patients and caregivers benefit from these devices. With proper care, these devices can improve the quality of life of the patient while minimizing frustration for both.
The results of the study have suggested that the use of hearing aids can help patients with dementia and MCI. More study needs to be done to determine whether hearing aids actually improve cognitive functioning. This is important because dementia patients can benefit from hearing correction. This article will review the current findings and identify the most effective methods for this population. So what's the best way to get started? You should first do a trial.
Depending on the level of dementia, hearing aids may not be the best solution for your patient. While premium hearing aids are made to be discreet and not obvious, they may be too small and unobtrusive for a patient with dementia. Also, these devices require caretaker reminders to keep the batteries fresh and the device clean. Depending on the level of hearing loss, you may consider another device for this patient.
They can monitor functional status
Mobile devices can help caregivers and dementia patients track the functional status of their loved ones. Smartphones can take pictures and send them to a server to record location and time. This information can be used to monitor a patient's condition and detect signs of neuropsychological behavior. Researchers have studied a variety of different ways to use mobile devices to track the condition of a loved one. In one study, caregivers were able to use a smartphone to track their loved ones' movement and location. Another application allows caregivers to remotely control the subject's smartphone to guide them home.
Many studies and research have examined the use of mobile devices to support the care of dementia patients. Mobile technologies provide support for a variety of needs, including preserving daily activities, memory, social interaction, tracking location, and health. Researchers report that each support method is mapped to at least one human need. Most support systems, however, target lower-level physiological needs and safety concerns. Smartphones are a better option, according to researchers.
As the disease progresses, people with dementia are more likely to lose the ability to make or use decisions. While many of them can still live independently, they may require help with housekeeping, cooking, transportation, and even paying bills. Occupational therapists and speech pathologists can help set up the home. It's also important to set up Power of Attorney or Health Care Proxy status, which enables the person who cares for the patient to make decisions for the person's welfare.
The review of the global dementia observatory noted that while many technological advancements have been made to aid the care of people with dementia, very few of them focus on the needs of the people who suffer from this disease. The lack of focus on the patient's behavioral and psychological needs has hindered development of technology to help people with dementia. In addition, the patient may not recognize what their own needs are. They may also reject support for unidentified needs.
Get More information:
How to Pick a Retirement Community: Everything You Need to Know
A Beginner's Guide to Testosterone Enhancement Options
Housing Market Outlook and Predictions
The Benefits of Chiropractic Care After a Car Accident
8 High-Risk Investments that Could Change Your Life
How Old Is Snoop Dogg | basic info Snoop Dogg life
Frequently Asked Questions about aainflight American Airlines